How To Combine PDF Files: Ultimate Guide
The Ultimate Guide to Merging PDFs Every computer or smartphone user should be able to combine PDFs. If you work or study in a setting where you must repeat anything often, it is very crucial. The good news is that merging PDFs doesn't require advanced knowledge of technology or math. Continue reading to discover simple, quick, and inexpensive ways to combine PDF files!
Article Roadmap
Online
Soda PDF
iLovePDF
Smallpdf
Using Android
Using iPhone
Using Windows
PDFsam
PDF Merger & Splitter
Adobe Acrobat,
ABBYY FineReader or
PDF-XchangeEditor
Using Mac
Finder
Preview
Using Google Chrome
FAQs
Next Steps
Online You may combine PDFs online for free on several different websites without downloading any software. You just need an internet connection to get started. Check out our list of the most well-liked PDF combining websites that are simple to use and do the task right away.
Step 1 for Soda PDF: Open the website of Soda PDF and select Online Tools from the toolbar at the top of the page.
When using a mobile device, launch Online Tools by tapping the three horizontal bars in the upper right corner and proceed as described below.
Step 2: Select Merge PDF under Split & Merge.

Then select "Merge PDF."
Step 3: Depending on your option, click click File or choose Or drop files here in the new open tab.
You can choose or drop files as you choose. Source
Step 4: Click Merge Files after selecting your documents. The combined PDFs are instantly downloaded to your system after they have been mixed. Hovering over the Download File button will also give you the option to download it to Dropbox or Google Drive.
You can only upload a certain amount or size of files to Soda PDF. To compress and merge huge files, however, use the Compress PDF option under Online Tools.
It provides subscription plans with different features as well as a 7-day free trial. The solution is available through PC and mobile apps.
iLovePDF
To access iLovePDF on a PC, Mac, or phone, follow these steps.
First, access the website and select Merge PDF.
Step 2: Choose Or drop PDFs here, then click Select PDF Files.
Step 3: To choose files, either select them directly from the device or click the icons for Google Drive or Dropbox next to Select PDF Files.

You can select files from your computer, Dropbox, or Google Drive. Source
Step 4: Choose your files, then click "Merge PDF." If the combined PDF doesn't download instantly, you can tap Download merged PDF. By selecting the icons next to the Download merged PDF button, you can easily download it to services like Google Drive or Dropbox.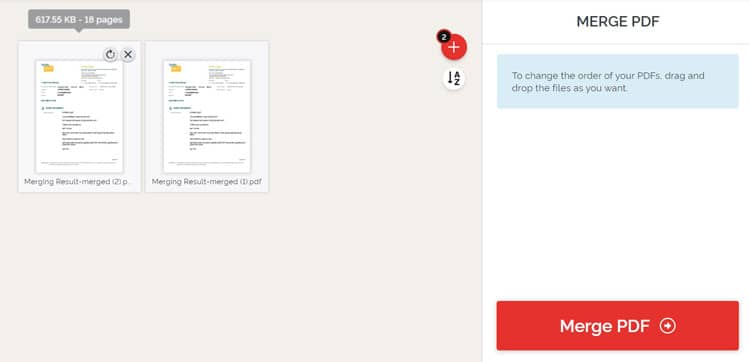 Then select "Merge PDF."
Note that iLovePDF provides a number of PDF tools and lets you change the arrangement of the files. Up to 25 files can be combined for no charge, but anything more can get expensive.
Smallpdf
utilise this procedure to utilise Smallpdf on a Mac or PC.
First, visit Smallpdf's website. At the top of the screen, select Tools. Select Merge PDF under Split & Merge.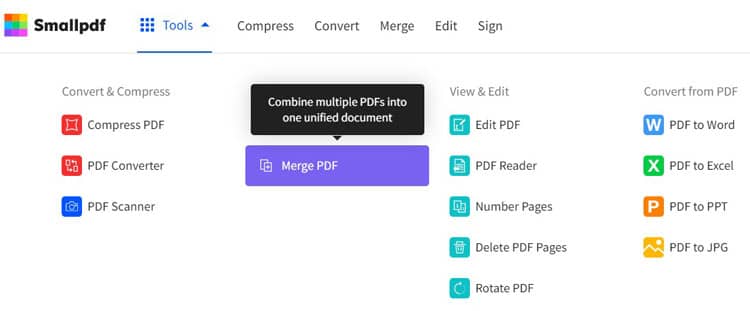 Then select "Merge PDF."
Step 2: To choose files from the system, click Choose Files. To choose files from other platforms, hit the downward pointing arrow next to the option.
Step 3: Select PDF documents Choose the Merge files option > Click Choose.
To combine PDF files for free, use the "Merge files" option. Source
Click Merge PDF in step four. If you want to download it exactly as is, click Download.
Step 5: Arrange the pages. On the right side of the screen, select Edit & Organise. From the top menu, select the Organise tab. Pages can be rearranged to suit your preferences.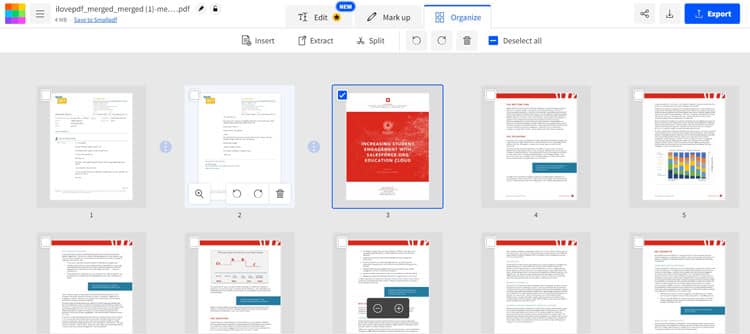 Organise pages as necessary. Source
Step 6: Tap Download PDF after selecting Export in the top right corner. To save a copy on other platforms, click the icon with a downward pointing arrow next to the button.
Google Android
The aforementioned websites are the simplest and quickest ways to combine PDFs on Android. Similar PDF combining procedures for PCs and mobile devices are available on the websites of SodaPDF and iLovePDF. Therefore, to access these tools on a mobile device, follow the identical steps described in our 'Online' section.
Smallpdf for mobile
On the Smallpdf mobile website, combine PDFs by:
Step 1: Access the website using the mobile browser on your device. Tap Tools (Rubik's cube-shaped icon). Tap Merge PDF under Split & Merge.
Step 2: To open files from the device, tap the Choose Files option. To choose PDFs from other platforms, click the downward pointing arrow.
Step 3: Tap Merge PDF under File Mode. Click Download to complete. There are options for sharing, compressing, and exporting.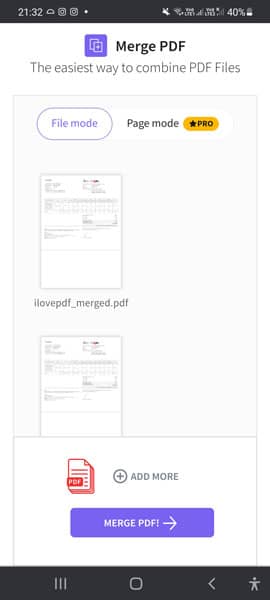 Go to the File mode tab and select "Merge PDF." Source
Only the ability to move pages to the beginning or finish is available for editing on the mobile website. To reorder documents, use the following actions:
The Organise tab (formed like four boxes) may be found by tapping Edit & Organise.
Tap the blue upward arrow icon after you're finished editing files. Click PDF Download. The paper can be exported as Word, PowerPoint, and other formats.
Apple iPhone
The aforementioned services make it simple to swiftly integrate PDFs on iOS devices. On the iPhone, merge documents natively using:
Step 1: Verify that all of your PDF files are stored in the same location.
Step 2: Open the location of your files, then choose by tapping the three dots in the upper right corner.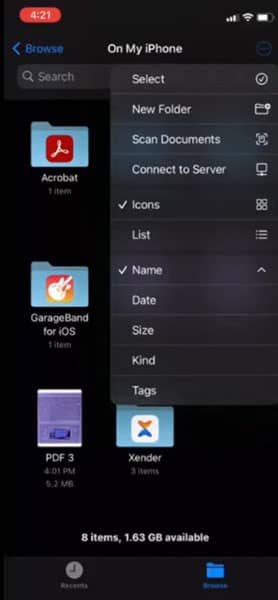 In the top-right corner, tap the three dots. Source
Step 3: Select the locations for your PDFs by tapping the bottom three dots to the left.
Step 4: To combine files, choose Create PDF. The file will be saved in the same folder as the original paperwork.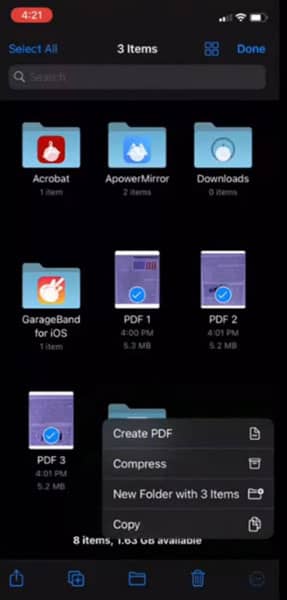 At the bottom right, click the three dots, then choose "Create PDF." Source
Utilising Windows Windows doesn't come with built-in capabilities for combining PDFs. You can merge files offline by downloading third-party programmes, though. Here are some of our top picks for merging PDFs:
PDFsam
The first step is to launch the PDFsam programme, choose Merge, and then select your files by clicking Add in the top left corner or by dragging and dropping PDF files onto the tab.
Step 2: Change the order of the files by selecting them and repositioning them in the rows as necessary.

Establish page ranges, select and move file rows, and organise page order. Source
Step 3: Click the Browse button next to the Destination file selection at the bottom of the screen. Type the file name in the Save As box. To locate the document quickly, you can optionally choose the file destination.
Step 4: To complete, click Run in the lower left corner.

To conclude, click "run". Source
Notably, PDFsam's Basic version gives customers free access to a few other functions as well as the ability to combine and divide PDFs. Advanced and dynamic PDF functionalities are available in the Enhanced version and Visual edition, which are priced at $69 per user per year and $34.90 per user per year, respectively.
split and merge PDF files
This app, which is less expensive than PDFsam, is offered on the Microsoft shop. On PDF Merger & Splitter, combine PDF pages as follows:
Step 1: Launch the software and choose Merge PDF. Towards the top-left corner, click Add PDFs.
Step 2: After selecting the PDFs, click Move Up or Move Down to modify the order of the files by selecting a document.
There are several options to alter the size and order of pages in PDF Merger & Splitter. Source
Step 3: To see a preview of the finished project, tap Preview.
Step Four: Select Merge PDF. Choose the file destination after entering the file name. Click Save to complete.
Notably, PDF Merger & Splitter is less feature-rich and less user-friendly despite being reasonably priced. Its ability to give all documents the same page size, though, is a benefit. While PDF Merger & Splitter offers choices to set page size according to the first page, largest page, and page size utilised by most pages, PDFsam sizes all files according to the first page.
ABBYY FineReader, Adobe Acrobat, or PDF-XchangeEditor
If you want more visual hints and sophisticated PDF features, it's
Purchasing paid alternatives like Adobe Acrobat, ABBYY FineReader, or PDF-XchangeEditor is beneficial.
On these systems, combining PDF files is a simple procedure that uses the same methodology. The steps are as follows in Adobe Acrobat:
File > Create > Combine Files into a Single PDF is the first step.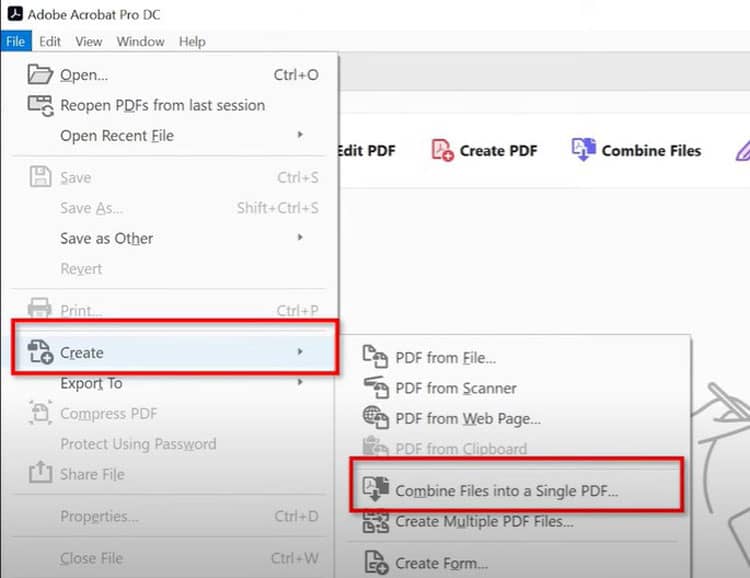 One of the best PDF combining software available is Adobe Acrobat. Source
Step 2: To open documents, click Add Files.
Step 3: After choosing your files, you can reorder or remove them. To combine pages, click Combine.
Using Adobe Acrobat Pro's Manage Uploaded PDF Files Order feature
To complete, select "combine" and save the file to your device. Source
Step 4: Save the document using the specified file name and location.
Using a Mac
Mac systems provide many options for combining PDFs. The following techniques can be used to natively integrate documents or visit the websites previously mentioned to do so: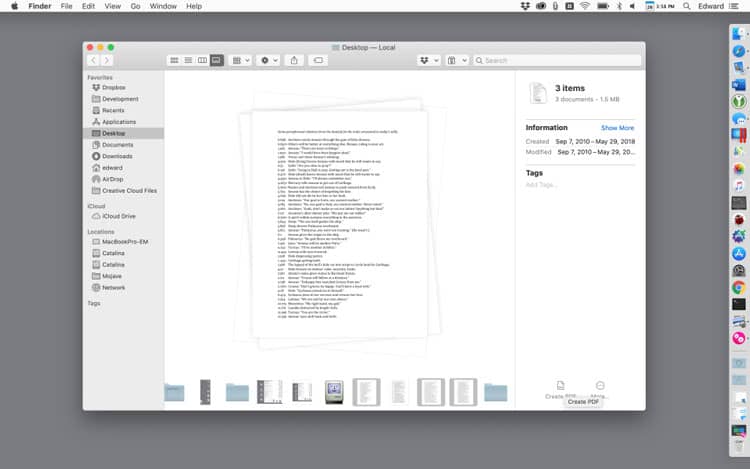 To merge documents, click "Create PDF". Source
Note: Using the same technique, you may merge various formats into PDFs, including PNG, JPEG, and TIFF. You can rearrange files in the Preview app if you wish to.
Preview
Create duplicate PDF files as it is difficult to undo changes made in Preview.
Step 2: After making copies, choose one of the files and then use the menu to select Open With > Preview.
The final step is to drag and drop the remaining files into the sidebar. The View menu's Thumbnails option can be used to enable thumbnails (page icons) if you can't see them currently. Drag thumbnails up or down to change their order.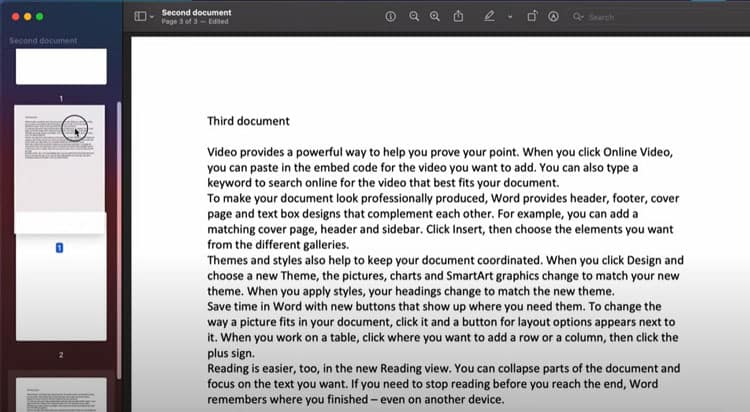 Drag files up or down to change their order. Source
Step 4: Select Export by hovering your cursor over File in the top menu bar.
Step 5: In the Where box, type the file name and select the location for the file. Choose PDF as the format, then click Save to complete.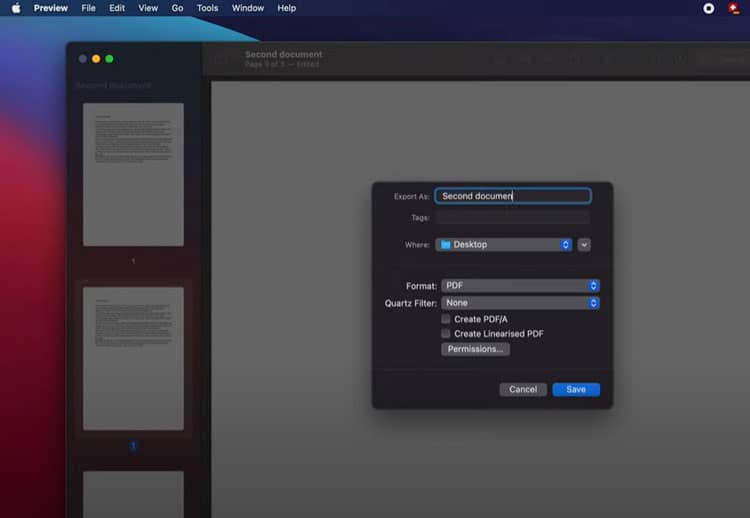 Decide on the file's name, location, and format. Source
Google Chrome usage
Although Google Drive doesn't have built-in PDF merging functions, you can use browser extensions like Merge PDF by Zonepdf to accomplish the task by visiting the Google Chrome store.
Step 1: Locate the Merge PDF addon in the Google Chrome store when requested. Tap Add extension after selecting Add to Chrome.
Step 2: In the top-left corner, click the Extensions symbol, which resembles a jigsaw puzzle piece. To make Merge PDF easily accessible, tap the thumbtack-shaped Pin icon next to it. This will pin it to the browser toolbar.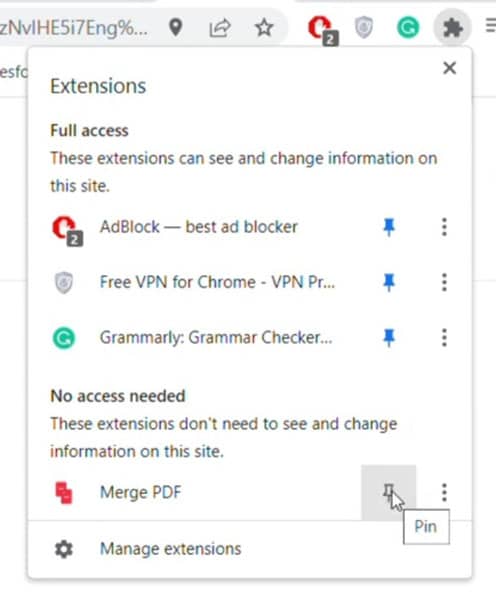 For easy access, add the Merge PDF plugin to your Google Chrome toolbar.
Step 3: Click and drag documents into the open tab after opening the Merge PDF button in the Extensions toolbar.
Step 4: As needed, add or remove PDFs. Select "Merge" from the menu.

As necessary, add or remove files. Source
Step 5: To complete, click the Download button.
FAQs
What is a PDF?
Portable Document Format, or PDF, is a format that makes it simple to share documents and is compatible with a variety of gadgets. This indicates that it has a set layout and appears the same on every machine.
How can I combine PDF files without using Adobe?
Many websites, such Soda PDF, iLovePDF, and Smallpdf, offer simple and free PDF merging solutions. The Mac and iPhone operating systems include native document merging capabilities. Another convenient option is to use Google Chrome browser extensions.
How do I combine PDF files on my Mac without installing any apps?
Using the Finder or Preview platforms on a Mac, you can combine PDF documents natively.
How can I get rid of watermarks in PDFs?
Right-click on the PDF file and select Properties.
Hover over Open with and select Microsoft Word.
Make the necessary adjustments and save the file.
How do you merge PDFs with sensitive data?
Adobe Acrobat Pro is an outstanding application that offers a variety of PDF editing features while also ensuring data security.
In Windows, how do you pick several files?
To pick several non-grouped files, click the first file > press the Control key (Ctrl) > select the remaining files while holding down the key.
To pick neighbouring files, click the first file, then hold down the Shift key and click the last file to select all files in between.
If you previously selected non-grouped documents with the Ctrl key, you can use Shift + Ctrl to select nearby files in the same collection.
On a Mac, how do you pick several files?
To choose files that are not nearby, click the first file > press and hold the Command key > select the remaining files while holding the key down.
To pick nearby files, click the first file > hold the Shift key > click the last file to select all files in between.
Following Steps
PDFs are useful and simple tools for distributing information. Now that you know how to merge PDF files, you should master other PDF editing abilities, such as compressing or splitting documents for easy data flow.
Do you know of any other quick and cheap ways to combine PDFs that we haven't mentioned? Please let us know in the comments!
© 2023, PDF Notes Download.com. All rights reserved.